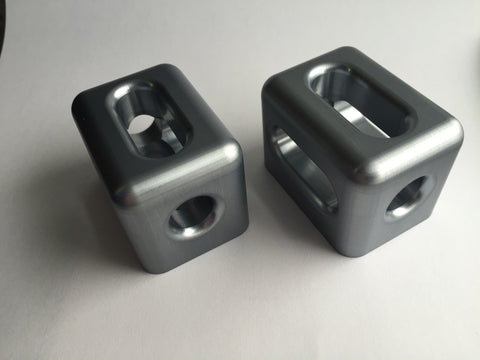 Pewter FJ Cruiser Cargo Coat Hooks
CNC machined from 6061 aluminum and hand brushed for a beautiful finish, these Cargo Coat Hooks replace the plastic hooks found in the back of the FJ with a solid solution that won't allow your clothes hangers to fall off while driving!
Simply unbolt the plastic OEM hooks, and bolt these in using the provided hardware. We've even engineered a clocking feature into these hooks that uses the OEM mounting holes, so they can't rotate under load.
Sold in pairs, with all necessary hardware.
PLEASE NOTE: Pewter is a blue-grey anodize, but the blue undertone can be difficult to photograph in some lighting and even more difficult to portray from screen to screen. If you will not like a slight blue hue in the grey, please do not order pewter. Keep in mind anodize can vary from each batch to each batch (see our FAQ). We do not accept returns or exchanges for colour variances, and if this is a concern we highly recommend stealth black, black, or clear anodize.
---
We Also Recommend